Foam Expo 2020
2020-04-17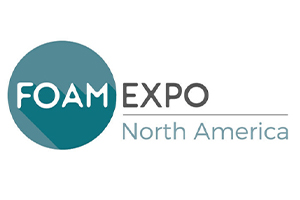 Exhibition: Foam Expo 2020
Exhibition date: 25 - 27 Aug 2020
Venue:Suburban Collection Showplace, Novi, USA
Main Product:
Chin Li Plastic Industrial Co., Ltd, a professional EVA foam manufacturer, which is established in 1990 in Taiwan and has more than 30 years of experiences in manufacturing EVA and relative foam products. We supply the best quality foam all over the world,provide you: EVA Foam / PE Foam / RB Foam、TPE Foam、Multi Density Foam、CORK Foam、Shock Abosrbing Foam、ESD Foam、ECO Foam
Exhibition introduction:
"Discover three unmissable days of technical foam related technologies and innovations" Foam Expo North America is the world's largest dedicated free-to-attend exhibition and conference for the manufacturers and buyers of technical foam products and technologies, as well as the entire foam supply chain. Now moving into its fourth year the event provides a one-of-a-kind opportunity to source the latest innovations and technologies across the entire foam manufacturing supply chain, keep up-to-date with market trends and network with industry professionals at no cost. The event will highlight the latest product applications, services and equipment from multiple sectors, including: adhesives & sealants, converting & fabricating, equipment & machinery, foam manufacturing, raw materials, recycling and testing from the following industry verticals: aerospace, automotive, construction, medical, packaging, and sports & leisure. Download the 2019 post show report here.